OVI annually recognizes outstanding new and long-standing projects from member support groups throughout North America.  Endeavors in which volunteers have been intimately involved in the conception and implementation of a project, and which are designed to educate, build audience, support the many facets of a company's work need to be applauded and shared. So too are programs to train volunteers for work with the company and in the community and to attract new members to their support groups.
APPLICATIONS FOR THE 2024 AWARDS WILL BE ACCEPTED UNTIL FEBRUARY 1, 2024
Click here to download a pdf of the application materials.
2023 Projects of Special Merit



Projects of Special Merit nominee Opera on Wheels




submitted by Toledo Opera Guild.



2022 Projects of Special Merit
Cincinnati Opera Guild – Artist Hospitality Welcome Bags
The Cincinnati Opera Guild has a signature event called the Meet and Greet, where artists of season productions mingle and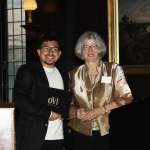 enjoy treats and drinks with the Guild, staff and invited board members. Due to safety regulations and artists' union stipulations related to the COVID-19 pandemic, Meet and Greets have been cancelled for the past two years. As Cincinnati Opera returns to indoor performances, 60 members of the Guild will create hospitality bags to welcome the artists. Included will be a personal handwritten note of welcome, gift cards, local restaurant cards, and a signed copy of Rick Pender's book, "100 Things to do in Cincinnati Before you Die." Donated tickets to attractions will be made available, and social media posts will be made to market the welcoming theme.  (Accepting the Award for Cincinnati Opera Guild was Carlos Garcia León.)
  Projects of Special Merit Archives