Knoxville Opera Guild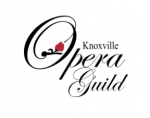 Opera Guild Name:
Knoxville Opera Guild
Opera Guild Description:
The Knoxville Opera Guild is a volunteer organization created in 1992 to support Knoxville Opera and provide a means of fellowship and networking for opera lovers through cast parties, fund-raising events, and educational activities. The Guild makes opera accessible to an increasingly diverse audience and enhances the quality of life in our community. The Guild's annual fund-raising events include an Opera Ball, a Martini Party, a Croquet Tournament, Opera Up Close meals, and Pre-Opera Brunches, which together raise over $100,000 for Knoxville Opera.
Knoxville Opera Guild also partners with the Nashville Opera Guild to present the free-admission annual Metropolitan Opera Middle/East Tennessee District Auditions.
Julika Mullaney is president of the Guild.