Opera Guild Description
The Guild's mission is to support student artists in the University of Alabama Opera Theatre program; to increase the number of ticket purchasers, donors, and fans; to enhance the visibility of opera at UA, in Tuscaloosa and beyond; and to extend opera through outreach and education for diverse audiences in the community.
The guild president is Jim Jolly.
Opera Guild Address
Tuscaloosa, AL
35487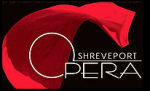 Opera Guild Description
The mission of Shreveport Opera is to produce professional opera and musical productions of the highest artistic quality and to provide educational programming and outreach to children, youth and adults in the Ark-La-Tex region.
Shreveport Opera is one of the oldest opera companies in the country and has been privileged to host some of the world's greatest performers including Beverly Sills, Franco Corelli, Leontyne Price, and Sherrill Milnes.  It has also enjoyed the wonderful opportunity to help launch the careers of internationally acclaimed stars such as Renee Fleming and Greer Grimsley.
In the 2000-2001 season, Shreveport Opera created the Shreveport Opera Xpress (SOX) education and outreach touring program. SOX brings opera into schools, libraries, children's hospitals, retirement centers, and other venues in an effort to both entertain and educate our friends and neighbors about opera and the arts. Currently, SOX performs for an estimated 50,000 young people and adults every year.
Shreveport Opera produces three professional main stage operas or musical theater works each year, as well as three operas for SOX.  Nearly all of the traditional operatic repertoire has been presented over its sixty-two year history.
Jennifer McMenamin, CFRE, is Executive Director.
Opera Guild Address
6969 Fern Loop #206
Shreveport, LA
71105
Opera Guild Description
The Young Patronesses of the Opera, Inc. is a non-profit organization of over 200 volunteer women whose mission is to cultivate, promote, foster, sponsor, educate and develop the understanding, taste, and love of opera in our community. Educating children has always been of paramount importance to the members of YPO. They offer programs focused primarily on children's education, which build future opera lovers and supporters.
The members of YPO fulfill this mission in several ways such as:
- Our In-School Opera: For over 40 years, YPO has been bringing 30-minute children's operas, where professional singers perform children's opera to almost 20,000 elementary students in our local public, private and parochial schools. We perform at 35-40 schools each spring annually.
- "Opera Funtimes" educational books designed by our volunteer members that share the story of a famous opera through poetry, activities, games and more. They are given to schoolchildren for free.
- Teacher's Workshops that annually train approximately 150 Miami-Dade County music teachers on how to broaden a child's horizon by exposing them to opera in the classroom.
- Girl Scout Workshops for over 200 Girl Scouts in South Florida to help them earn an Opera Patch through lessons in dance, music, make-up and staging centered on one of the year's performances.
- Our nationally recognized Voice Competition that assists young opera singers in the pursuit of their careers.
Julie Todaro is president.
Opera Guild Address
9150 South Dadeland Blvd. #908
Miami, FL
33156