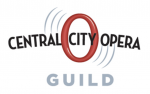 Opera Guild Description
Central City Opera is the fifth oldest opera company in the United States. Since 1932, it has presented opera and theater productions in its magnificently restored 1878 Opera House. The Central City Opera Guild was established in 1974 and assists the Central City Opera with historic preservation and restoration projects, community education, cultural and social events and various fundraising campaigns throughout the year. Our objectives are:
Educationwith a special focus on youth
Apprentice Artists support
Historic Preservation and maintenance of 30 + Association-owned properties in Central City
Audience Development
Fundraising including the annual L'Esprit de Noël Home Tour
The Guid president is Karen Ritz.